fgrab v1.0 is not ready for Snow Leopard or later yet. But fgrab was not mothballed, it is in the process of being revived. If you want to take part in the beta testing program, let us know. The functionality of some OpenGL APIs had slightly altered what required a part rewrite. The internal working pre-release BETA version 1.1.0b2 is compatible with Mavericks, a final version can hopefully be issued in brief.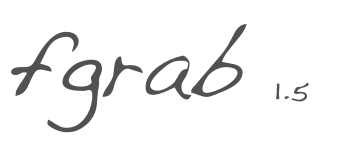 Capture everything on your screen super-fast, then postprocess your screen movie clips with FastCut, create screencasts, tutorials and so forth. It's a non-stop workflow. No export procedure is necessary and it's integrated in FastCut.



If you launch the app, it will not show up in the dock and in the application switcher (Cmd-Tab), but you may see it in the process list of the activity utility (/Applications/Utilities/Activity Utility). In order to bring fgrab to the front press Cmd-Shift-Return. This is the hotkey for the application. Use it to show/hide the app and to stop screen recording.


Under the hood fgrab has a highly sophisticated capture engine. fgrab is about 70 % faster than the leading screen movie capture utility Snapz Pro X 2. On a MacBook Pro 1.83 GHz fgrab needs about 20% of the CPU processing power to capture the whole screen (1440 x 900 px @ 30 fps). If only a special area of the screen is in motion (that is the normal case), fgrab merely needs 5% or less. fgrab only captures the screen areas that change.




Three BIG features:



First. fgrab is 70% faster than Snapz Pro X 2 (whether you compare it on PowerPC or Intel).


Second. No export procedure necessary. Direct recording to .fvf (fgrab video format) file. Play it back immediately after you captured it.


Third. Edit .fvf movie clips in FastCut movie projects natively.



.fvf is a special format made for a special purpose that is screen capturing.

Workflow to create a screen movie tutorial:
- capture [fgrab]
- play; set in&out point [fvf_player]
- edit; export [FastCut; Movie > 'Insert Screen Movie...']



The three applications fgrab, fvf_player and FastCut work together hand in hand.




Sample screen movie [movie quality, size and framerate reduced for fast web loading]

Zoom & pan: This movie has been created by FastCut + fgrab.

fgrab is bundled with FastCut 3 RT. It is not sold separately. The 'UNREGISTERED' watermark does not appear if you have a registered FastCut version installed.


IMPORTANT: This kind of software is really hardware dependant and might not run properly on all systems, but on most!


FAQ: How to capture a fullscreen game?
- Fullscreen games often change the screen resolution. Adjust your screen resolution to match the resolution of the game before you launch it to make sure that the screen resolution is always the same during the whole screen recording. Start and stop screen recording when the game is not running. The fgarb shortcut does not work while you play the fullscreen game. Sometimes it is necessary to hold down the shift key when you hit the 'Record' button to start the recording.